Color Variation




Size gauge: 16G (1.2mm)
Ring inner diameter: 15.9mm
Titanium ball diameter: 4.0mm
Name Also called captive ring (CBR) and ball crosser ring (BCR).
Country of origin Japan
Manufacturer Horie
Material Pure titanium Approx.99.8%

About color
Other than the platinum color, a thin titanium oxide (Tio2) film is applied by a special surface treatment (anodic oxidation method).
The color will be slightly thinner due to friction. Please understand.
(The quality of titanium does not change even if the color becomes thinner, so you can use it with confidence.)

How to care
[Platinum color]
If it looks cloudy or dull, wipe it with your own jewelry cloth or glasses.
(Wipe with something without abrasive.)
[Color and platinum color]
Since the color may fade due to friction, we recommend washing with a sponge with a neutral detergent, and after washing the detergent with water, dry it in a place exposed to light.
* Please note that the stone and pearl should not be washed with detergent.


Wearing method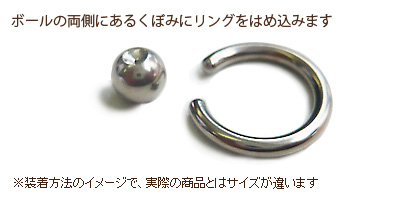 ■ It is recommended that you practice the removal and removal of the ball several times before putting on the body piercing.
As the gauge becomes thicker and the inner diameter becomes smaller, the spring force of the ring itself becomes stronger, making it difficult to remove and install the ball.
Hook the end of the ring in the groove on one side of the ball, and then slide it so that the other side is pushed in.
Special tools such as open pliers and closed pliers may be required for thick items of 10-8G or larger. (Not available at our store. Please note.)


Notes
Depending on the viewing environment, the color of the actual image may look slightly different.
There may be some differences depending on the product, such as size and weight.
Please be forewarned.